State of the SHIFTphone 8
(Updated: November 30, 2023)
Welcome to the status page. With our new #LOVEPHONE development project we are breaking new ground:
It starts with the name! Unlike before, the number no longer stands for the display size, but from now on for the generation. In fact, the SHIFTphone 8 is our eighth model. As another big step, it will be our first waterproof, IP-certified device without restricting the previously known modularity. Our goal is to at least provide protection against temporary submersion. In addition, hardware kill switches provide secure control over modules such as cameras and microphones.
In order to make the individual phases of development more transparent for you and to take you into the current situation, you can view the current status on this page at any time.
This will be our new SHIFTphone 8
Fully modular design with more than 13 easily exchangeable modules, repairable with just a screwdriver
Water protected with IP certification, protection class IP67 or better planned
Hardware kill switches for secure control over modules such as cameras and microphones
Latest 5G mobile communications standard with eSIM support
ShiftOS based on Android™ 13, ShiftOS-Light, extensive custom ROM community support
E-waste positive thanks to the cooperation with our partner Closing the Loop
Designed in Germany/Falkenberg and fairly manufactured in our own factory in China
Standard with us for many years: 22 € device deposit
Incl. tempered glass, bumper, screwdriver and USB-C cable with USB-A adapter
Delivery: expected end of March 2024
Final price: estimated €555 plus €22 device deposit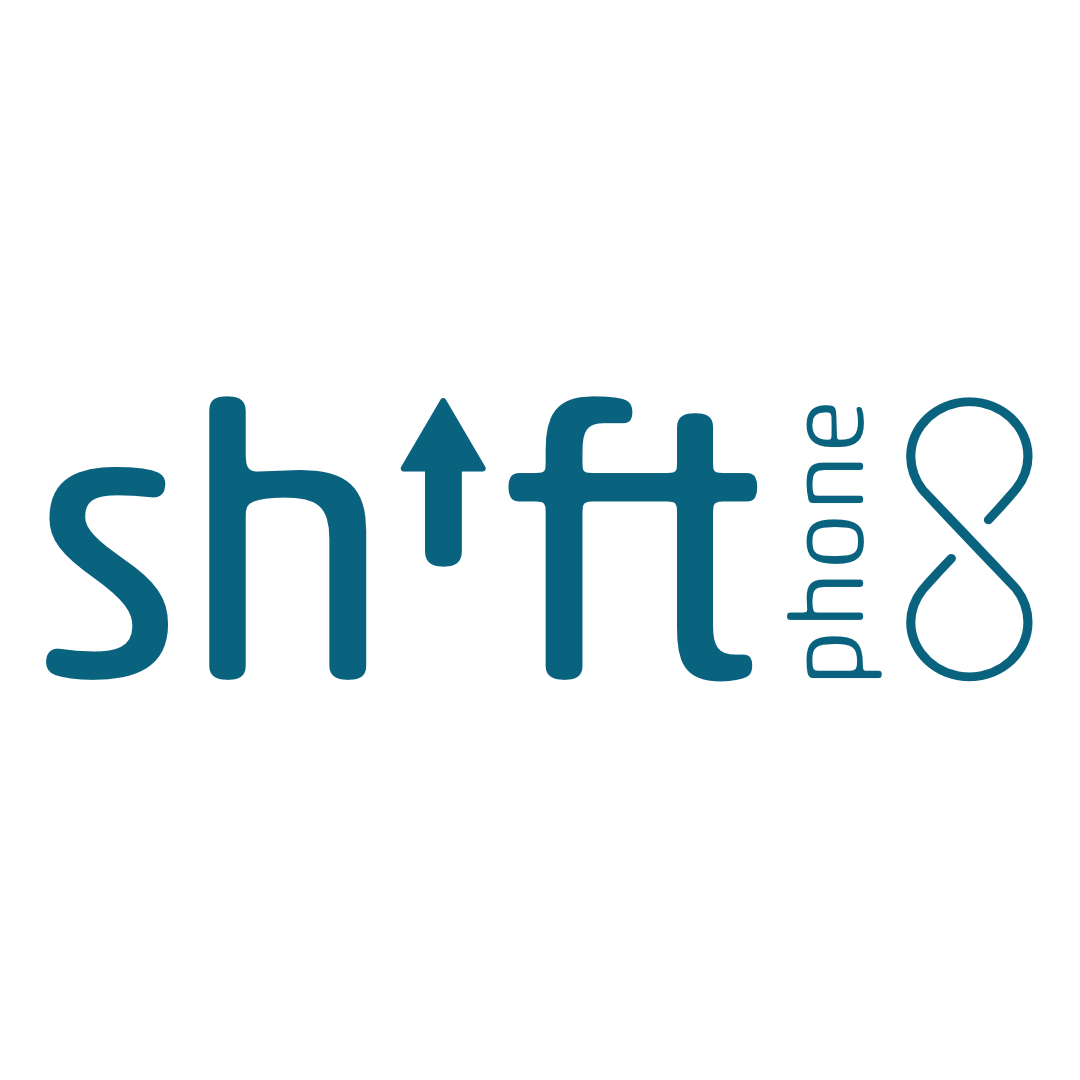 SAVE THE DATE: The next LIVEstream for the SHIFTphone 8 will take place on November 29th!
It's worth pre-ordering!
 
This unique project is only possible with your pre-orders. This enables us to develop devices according to our ideas, but also according to your ideas, without investors and their profit expectations. Since your pre-orders are so important, we're making them cheaper and (hopefully) calling out exciting goodies for funding goals.
By reaching 3333 pre-ordered SHIFTphone 8, we are adding 12 GB RAM to the device! (Originally announced: 8 GB.) There have already been …
… SHIFTphone 8 pre-ordered. So 12 GB RAM for everyone is within reach! So: it's worth spreading the word!
It doesn't get any cheaper!
We're gradually increasing the pre-order price for our SHIFTphone 8 in small steps. So it won't be any cheaper than it is now. Currently there are still …
… SHIFTphone 8 available for EUR 505. The next price level will definitely come. What are you waiting for?
(Note: Our counters are adjusted manually at regular intervals and not automatically immediately after an order.)
It took less than 5 minutes for the first 33 SHIFTphone 8 to be pre-ordered at a super early bird price.
After just 16 minutes, another 99 devices (a total of 132 SHIFTphone 8) were sold out at the early bird price.
On 30. January we reached the funding threshold of 555 pre-orders. The SHIFTphone 8 is being produced!
1. Funding goal achieved. All orders received by March 8, 2023 (2 p.m.) will receive a free USB-C aux adapter.
15. May 2023: 2nd funding goal of 1777 pre-orders reached. The SHIFTphone 8 is produced with 256 GB of internal memory!
16. November 2023: The 3rd funding target of 2777 pre-ordered devices has been reached. Everyone with a valid SHIFTphone 8 pre-order by 16 November 2023 at 4 pm will receive a 15% voucher on our shop range.
In progress: The 4th funding target was set at 3333 devices. If this target is reached, the SHIFTphone 8 will be equipped with 12 GB RAM. (Originally announced: 8 GB RAM)
Completed and still open steps
1st – 2nd early bird funding phase
Funding threshold reached
3rd – 15th funding phase *
Funding target 1111 devices reached
15th funding phase for 505 € ¹ *
Funding target 1777 devices reached
¹ Price plus €22 device deposit
Construction and implementation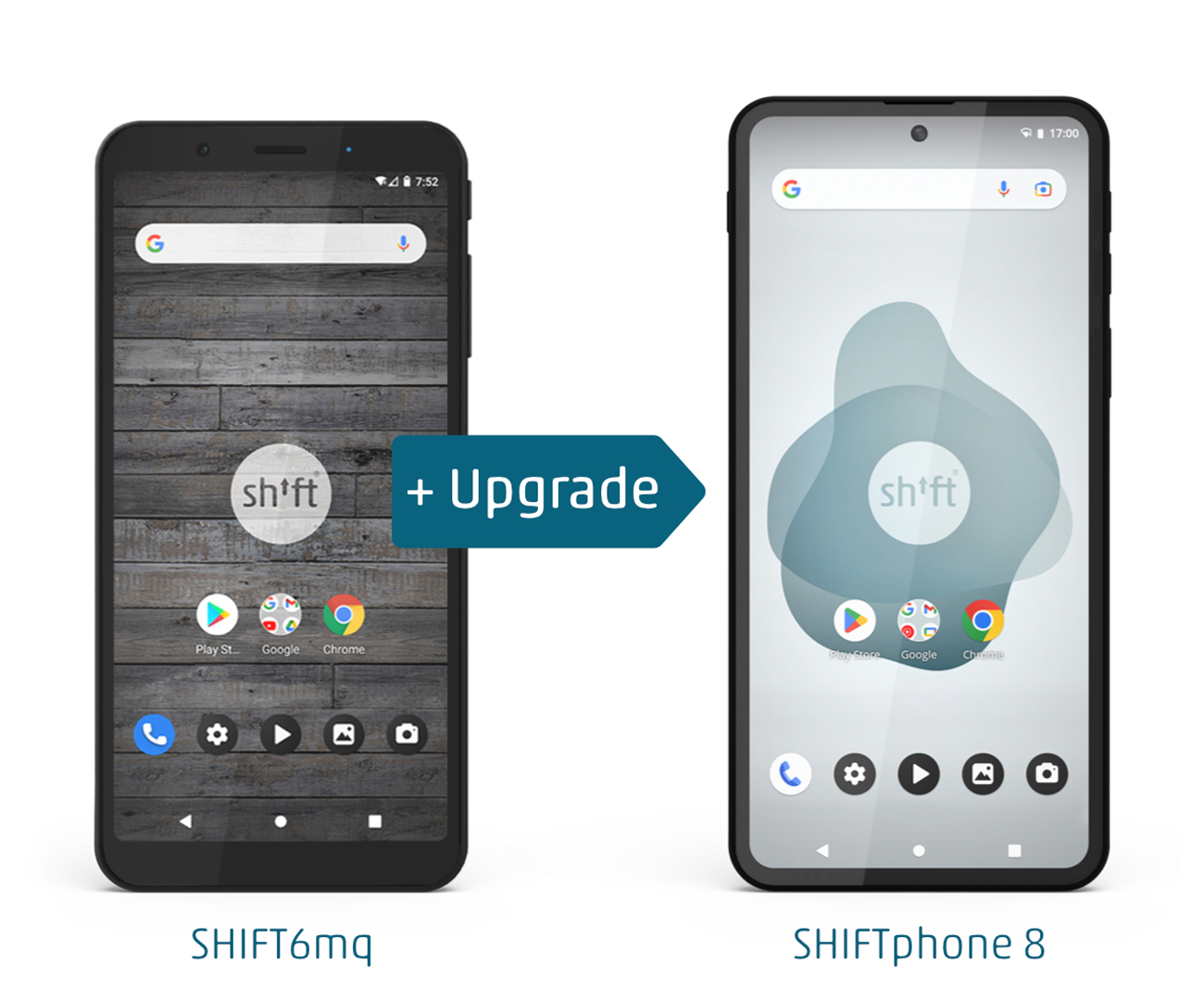 Can't wait any longer and need a new smartphone NOW?
With our SHIFT6mq +Upgrade you can easily bridge the waiting time for the SHIFTphone 8. So if you want to pre-order the SHIFTphone 8 but urgently need a bridging device until delivery, you've come to the right place.
With: Carsten, Samuel, you and other SHIFTphone 8 enthusiasts.
How: Interactive. During the talk you can ask questions and give feedback in the chat
If you can't make it to the appointment, we'll provide a summary here afterwards.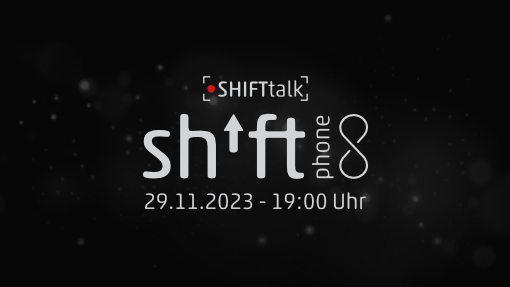 SHIFTtalk on August 30, 2023
At the end of the summer, an exciting SHIFTtalk finally took place again, in which Carsten, Samuel, Ben and Daniel informed about the latest developments regarding SHIFTphone 8. If you missed the LIVEstream, you can watch the recording via the video above. Thank you very much for your numerous feedbacks and impulses.
SHIFT talk on April 19, 2023
On 19. April 2023 you were able to follow Samuels, Bens and Daniels' explanations about the development status of the SHIFTphone 8 Live. If you couldn't have been there, you can find the recording of the broadcast in the video linked above. Thank you again for the time together with you, your numerous impulses and the appreciative cooperation.
Our first SHIFTtalk about the SHIFTphone 8 took place on February 8, 2023. Thank you for the mutual exchange and the many inspiring, appreciative and loving words. In this video you will find a summary of the most important information. To activate English subtitles go to settings and select automatically generated subtitles.
Situation 16. November 2023
ACHIEVED!!!
 It's incredible. With an average of 40 orders per week and counting, you have surpassed another of our predefined funding targets. 2777 pre-ordered SHIFTphone 8 leaves us speechless!!!
If you have pre-ordered your SHIFTphone 8 by 16 November 2023 at 4 pm, we will send you the promised discount voucher for your next shop order shortly. (Minimum purchase value: 30 EUR, not applicable to SHIFTbook and PreOrder projects, valid until after receipt of the SHIFTphone 8).
Meanwhile, we are already celebrating the next announcement!
Due to the fact that the SHIFTphone 8 is already so popular, plus the numerous pre-orders, new options are constantly opening up for us. By purchasing or producing larger quantities, we can save costs that we can channel into more powerful and larger modules. As we did with the internal memory in one of the first funding targets, we are now increasing the RAM from the originally announced 8 GB to 12 GB. This requires the new funding target to be reached, which we have set at 3333 pre-ordered devices.
Only 555 SHIFTphone 8 still missing? Just a little something for you 😉 Rührt noch mal kräftig die Werbetrommel und berichtet gerne Freunden und Kollegen von unserem gemeinsamen Smartphone-Projekt.
Situation November 8, 2023
New display with reduced bezels for your SHIFTphone 8!
The display is the most striking component of a smartphone. It is the window for all content and the interface through which we interact with the device. The display turns the built-in components inside out: it shows how smoothly the animations run, how well the chipset works and lets us judge the quality of the camera and our photos.
Time, brainpower and many discussions with partners and manufacturers went into finding the best possible display for our SHIFTphone 8. And it was worth it! While the first SHIFTphone 8 renderings showed thicker display edges and a waterdrop notch for the camera, we can now realise a display with smaller side edges, i.e. more active area and a punch hole for the camera. Just like the originally planned display, this will also continue to be based on energy-efficient AMOLED technology.
We can already reveal the following technical details about the display:
Display size: 6,54 Zoll Full HD+ AMOLED
Resolution: 1080 x 2400 Pixel
Aspect ratio: 20:9
Colour gamut: 16.7 Millionen coloures
Contrast ratio: 5.000.000:1
The refresh rate is still open. 90 Hz is set as the minimum. However, the target is 120 Hz.
Situation September 8, 2023
Nach dem SHIFTtalk ist vor dem SHIFTtalk

A few days ago it was that time again. More than 100 people came together for a SHIFTtalk and, as always, we had a great time with you. We are very happy and grateful for the appreciative exchange, your good and helpful impulses and your understanding when changes or delays occur. At the same time, we are happy together with you that we were able to incorporate improvements into SHIFTphone 8. We have provided you with the entire recording above in the field SHIFTtalk. Alternatively, you can of course also find them on our YouTube-Kanal.
The most important updates in quick check:
Change of partner: We have developed and prepared many things together with various partners over the past months. A few weeks ago, delays in the project occurred due to a newer partner who was mainly responsible for the development of the motherboard of the SHIFTphone 8. We realised that this partner still had deficits in terms of experience and quality. At the same time, the option opened up to switch to a partner we already knew for the development of the circuit board. This opened up new possibilities that will make the SHIFTphone 8 even better. Especially in the areas of display, antenna design, camera and motherboard, which will meet our expectations as well as your feedback and will have a positive effect on the coming development steps and the quality of the device. From Minute 6 sowie Minute 12 in the video you will find Carsten's detailed explanation of changing partners.
Display: Due to the change of partners mentioned above, we were able to switch from the originally planned waterdrop display design to a punchhole layout, which also manages thinner edges and is more robust. (from Minute 9)
Kill-Switches: In the interest of planned water proofness, we will place the kill switches under the back cover and not on the outside of the unit. Our kill switches will only be used for actual hardware-side deactivation. A deactivation of certain functions via kill switch, which ultimately only set a software trigger and do not perform a real hardware cut, is out of the question for us. (from Minute 32)
Timeline: Due to the change of partner and the associated positive changes to the SHIFTphone 8, our schedule will be delayed. The first devices are still expected by the end of 2023, but these will only be used for internal testing purposes. (from Minute 69)
Expected delivery: The target shipping date for the SHIFTphone 8 is end of March 2024. As mentioned in SHIFTtalk, the SHIFTphone 8 is a development project that will only be possible with your support. In the development phase, further delays until April or May are not excluded. Of course, we are doing everything we can to keep the delays to a minimum and ship the SHIFTphone 8 in spring 2024. (from Minute 69)
Beta test programm: In order to keep the delays as short as possible, we are relying on a professional test programme together with our community. More information will follow in November/December.(ab Minute 74)
Situation August 23, 2023
Current developments in the field of audio
After reporting on camera development in the last update, we now turn to the topic of audio. We approached the topic with new know-how and accumulated experience from past projects.The latest developments in innovative MEMS technology were promising. MEMS speaker technology is not only characterised by its energy efficiency, but could also offer the potential for significant further development in the audio sector.
After initial tests, however, we came to the conclusion that although this technology is close to a breakthrough, it is not yet ready for the market for free-field applications. Die Forschung in diesem Bereich ist uns unbedingt wichtig und wir beobachten die weiteren Entwicklungen, denn bei der Veröffentlichung neuer Produkte ist es uns wichtig, aus Gründen der Langlebigkeit und Nachhaltigkeit, möglichst die modernste Technologie einzusetzen.
For the SHIFTphone 8, however, we decided to use electrodynamic (ED) speakers. This is the first time we use stereo sound, where speakers (bottomspeakers) and ear speakers (topspeakers) combine the sound to form a harmonious stereo system. Your next multimedia experience on the SHIFTphone 8 will also be a pleasure in the audio sense.
With our audio specialists from our own team and a highly specialised partner, we are currently working on the implementation of the amplifiers. Compared to our previous phones, the top and bottom speakers will each be operated with their own amplifier in order to achieve better performance.
Although smartphones are used for all kinds of applications today – from hotel bookings to navigation to calendars – they are still important tool for our communication. We value direct person-to-person contact. Good microphones that capture what is being said are therefore very important to us. To enable even better speech and recording quality, we are using digital microphones for the SHIFTphone 8, which achieve higher sensitivity. Overall, we are currently very positive about audio development and are convinced that we can take the next steps here.
Situation August 15, 2023
Current developments of the SHIFTphone 8 camera!
Recently, it has been a bit quieter here on the status page about the technical development of the SHIFTphone 8. Since many components depend on each other and everything has to be thought of together, it is often easier to wait for certain developments first and then communicate further. So this update will be about the current state of camera development, with other components to follow.
This is an important starting point for us to draw on experience from our previous projects and to exploit potential for improvement. Especially with the camera of the SHIFTphone 8, we put a lot of focus on the development. An important decision regarding the camera hardware was the sensor. After comparing and weighing many different camera sensors, their availability, quality and size, we decided in favour of the very high-quality Sony IMX 766 for the main camera on the back. The IMX 766 enables sharp images with 50 megapixels (MP). Of course, megapixels aren't everything, but pixel binding makes it possible to take much better pictures in the dark. With so-called pixel binning, 2×2 pixels are combined and can thus absorb significantly more light. Software then saves 12.5 MP sharp photos of your favourite image in your gallery. Taking better pictures in low light conditions was one of the big wishes for the new SHIFTphone. The open aperture of f/1.8 on our main camera additionally ensures better pictures in low light conditions.
In addition, the open aperture creates a beautiful look with depth of field, similar to what we know from SLR cameras. With 50 MP, digital zooming will also be much better in the future. This makes it possible to zoom in closer to an object without much loss of quality. As with the SHIFT6mq, the SHIFTphone 8 will have two cameras on the back of the smartphone.
While with the SHIFT6mq we talked about the second camera as more of an effect camera (responsible for information to calculate depth of field, bokeh, etc. afterwards), the SHFITphone 8 has a complete ultra-wide-angle camera built in. This means that in addition to the functions of the effect camera, even larger viewing angles can be displayed. Where ultra-wide-angle cameras on other smartphones make sacrifices, especially in terms of sensors, we have chosen the Sony IMX 766 sensor for the ultra-wide-angle camera, just as we did for the main camera. The use of the same sensor in both rear cameras enables a nicer and more homogeneous interaction between the ultra-wide-angle and main camera and significantly raises the quality of the second camera.
When choosing the lenses, we made sure that there was hardly any distortion. The field of view of the ultra-wide-angle camera (called Field of View) is reproduced almost distortion-free at approx. 110 degrees.
For the front camera, there are still 2 sensors to choose from, the decision will be made soon. But what we can already tell is that it will be a good 16 MP camera that delivers optimal 16 MP images even without pixel binding. It is planned that the front camera of the SHIFTphone 8 will also be compatible with the SHIFT6mq. In addition to upgrading the SHIFT6mq, this will allow us to keep the front camera available for both devices for a very long time.
The perfect subject in front of your eyes and yet the picture is blurred. That's why today, in addition to digital post-processing, there are also additional image stabilisers. Of course, this powerful hardware not only enables good pictures, but also videos in 4K with at least 30 FPS.
In addition to the camera hardware just described, the camera software is also becoming increasingly important. Here, too, we are investing more resources and have brought additional partners on board.
Situation July 25, 2023
New funding goal defined!

Our SHIFTphone 8 crowdfunding has been running for more than half a year now. A lot has happened in that time. Together with you, we reached our first and for us most important goal, the funding threshold, after less than a month and thus ensured the realization of the SHIFTphone 8.
Thanks to further pre-orders, we were also able to achieve the subsequent funding goals. The goodies that we link to the funding goals are both a thank you for your trust and an incentive to attract new prospects. It is only thanks to your support for this project that we are able to develop devices according to our ideas, but also according to your ideas, without investors and their profit expectations.
So time for a new find target: If we exceed the number of 2777 pre-ordered devices, all people who have pre-ordered a SHIFTphone 8 by this time will receive a voucher for a 15% discount on our shop range.
The voucher will be sent immediately after reaching the funding goal and is valid until you receive your SHIFTphone 8. With the voucher in hand, you can immediately search for exciting products in our shop or simply wait until your SHIFTphone 8 is with you to then order suitable accessories for your SHIFTphone 8. The minimum order value for the voucher is 30 EUR. Exceptions are pre-order products and SHIFTbook or SHIFTbook Bundle.
Situation July 12, 2023
Summer festival and SHIFTphone 8 – an invitation
Our summer festival is an opportunity to experience SHIFT and take a look behind the scenes. This also applies to the SHIFTphone 8.
At this event you can meet the people behind the development of the project and have a conversation with them.
Another opportunity is the SHIFTtalk, which will take place as an offline version. Among other topics that move us at SHIFT, the SHIFTphone 8 project will also have its place. So you can look forward to what Carsten and the team have to tell you.
With this in mind, we would like to extend a very warm invitation once again! More information about the summer festival can be found here.
Personal contact with the people in our community is extremely important to us, and that's why we're looking forward to seeing everyone who comes. But we are also aware that not everyone has the opportunity to just come. That's why we will record the SHIFTtalk at the summer festival and make a summary available here afterwards.
Situation May 15, 2023
Reached second funding goal of 1777 pre-orders!
And BAMM! Only a few days extension to the originally planned date (May 5th) were necessary to break the sound barrier of 1777 devices. Means: You did it! 256 GB of internal memory for the SHIFTphone 8 are set.
While the current price level of the SHIFTphone 8 has climbed to €485 (plus €22 deposit), we're scratching our heads for another funding goal in order to make the SHIFTphone 8 even more sustainable together with you and as a thank you for your great support can.
Situation May 9, 2023
Funding goal extended to 1777 pre-orders!
May 5th has passed and we've just missed our funding goal of 1777 pre-orders. But don't worry: there is still hope for a SHIFTphone 8 with 256 GB internal memory! Because: The SHIFT community is growing every day and so is the number of people who trust us for this unique project. This is incredibly strong for us. Thanks for that!
That's why we're extending the target date for the planned 1777 pre-orders by another week. Until May 15, 2023 you still have the chance to crack the funding goal. Share the info with family and friends. With your tailwind, we will reach this goal in a few days. 🙂
Situation April 20, 2023
Next price level reached
Yesterday's SHIFTtalk was once again a great experience. Thank you for your questions, your answers, your cheering, helping to shape and the numerous and appreciative feedback. 🙂
At the same time, the contingent of 111 devices for €470 was used up. We are starting the next pre-order level, in which you can pre-order 111 devices at a price of €475 plus deposit.
Situation April 13, 2023
SHIFTtalk #2 on April 19!
Our second SHIFTtalk will take place in just under a week. We're excited to share what's happened since the last SHIFTtalk in this interactive format. But your input should not be neglected either. Not only does our LIVEstream live from it, but the entire SHIFTphone 8 crowdfunding project. That's why two forms are available until Sunday:
EDIT on 4/17/23: In order to have enough time to evaluate your submissions before our SHIFTtalk, the forms were deactivated today.
The usual SHIFTtalk form, where you can already submit your question for our joint event, and the SHIFTphone 8 survey. In this survey, we ask you three very specific questions that directly affect how we approach the development process and help us make good decisions that meet your needs. Thank you to everyone who has already filled out both forms!
Since the beginning of last week we have reached a new price level in which a further 133 devices can be pre-ordered for €470 (plus deposit).
Situation March 20, 2023
Next price level reached
At the start of the new week, all 111 devices were pre-ordered for €460 plus deposit.
In the new price level, 122 devices are available for €465 plus deposit.
We are currently preparing a new SHIFTtalk, for which there will be more information shortly. If you don't want to miss anything, please subscribe to our SHIFTphone 8 newsletter at: www.shift.eco/newsletter-signup
Situation March 8, 2023
1111 pre-orders reached!
April 4th, 2023 was the target date for the funding threshold. The date that decides whether we build the SHIFTphone 8 or not.
Of course we wished that it would go faster and that we could get off to a flying start with our community behind us. In January we would not have dared to think that we have already reached our second funding target at the beginning of March and that orders are now in the four-digit range.
As promised, each of the 1111 pre-orders (pre-orders until March 8th, 2023 at 2 p.m.) now comes with the USB-C aux adapter free of charge.
Now we want to reach 1777 pre-orders together to make the latest SHIFTphone even more future-proof!
If we achieve this second funding goal together with you, it will be worth it for everyone. If we reach 1777 pre-orders by May 5th, 2023, we can plan with a larger production of the SHIFTphone 8 thanks to your support. This gives us the opportunity to increase the standard internal storage from 128 GB to 256 GB at no additional cost (this applies to all orders).
With the reaching of 1111 pre-orders comes a new price level. The next 111 devices are available for €460 plus device deposit.
Situation February 22, 2023
The final funding stage – until 1111 pre-orders are reached.
Encouraged by the inspiring feedback and continued support from our community, we have been finalising more and more details and specifications over the last few weeks. When we make final decisions on individual components, we will update the published specifications.
Meanwhile, we have well over 900 pre-ordered devices and have reached the next funding level of 455 € (plus device deposit). At this stage, 155 devices are available.
When these additional pre-orders are completed, the funding goal will be reached with an overwhelming 1111 orders and everyone who has pre-ordered by then will benefit from our USB-C Aux Adapter.
Situation February 09, 2023
Fill the community idea with life!
Inspired and encouraged, we look back on yesterday's SHIFTtalk. Thanks to everyone who participated! We were very happy about the exchange with you and hope that we were able to give you a good insight and answer many questions. Thank you also for the many positive feedback and appreciative comments, which give us a lot of strength for everything that is to come. Here are a few extra great examples:
Thanks a lot. I think your work is really great and just awesome. I am very, very happy with my SHIFT6mq and am really looking forward to the Shift 8!
This will be my first Shiftphone and I'm glad I ordered it – you guys are a super cool team!
As transparent as you are … mega … most of them CANNOT do it.
Thank you from the bottom of my heart for your loving answers in the LIVEstream.
I think it's great that you really take the users with you into your considerations!!! And that you also take the time for new developments! Keep it up!! Great!!!
As written yesterday, the new pre-order phase has been in effect since today, in which the price for the next 111 devices is €444 (plus deposit). With a lot of tailwind from the SHIFTtalk yesterday, we look positively into the future and look forward to every further order!
Situation January 08, 2023
They're getting more and more!
The planned 123 devices at a price of €433 plus a €22 device deposit are already sold out again.
However, we are extending this pre-order phase until today after the SHIFTtalk at midnight.
What this project means to us, Carsten and Samuel talk about today in the brother talk on YouTube. A lot has happened since the start of the project and thanks to you we have even reached the funding threshold. If you haven't seen the brother talk yet and would like to hear Carsten and Samuel talk about the SHIFTphone 8, this link will take you there. Otherwise, of course, we also recommend the first SHIFTtalk today, to which we have already cordially invited you.
Situation January 30, 2023
We have reached the funding threshold!
Together we have reached the funding threshold of 555 pre-orders. We are so grateful that we also got off to a successful start with this crowdfunding. The SHIFTphone 8 will now become a reality!
But that's not the end of it!
Situation January 27, 2023
Funding threshold almost reached!
Only a handful of pre-orders are missing to reach our first funding goal. We're keeping our fingers crossed that we'll break 555 over the weekend.
The fact that we are making such good progress with our crowdfunding also means that of the 444 devices for €444 (incl. deposit) pre-order price, only 26 devices are currently available before the price goes up. So it pays to be quick.
Reason enough to prepare our first SHIFTtalk. All information about when, where, with whom, … can be found on this page in the SHIFTtalk area.
Situation January 11, 2023
Encouraged by the many pre-orders and the trust you have placed in us, we are now working enthusiastically to clarify important details and to push the SHIFTphone 8 project forward as best we can.
We are currently heading towards Chinese New Year. The time around these holidays is vacation time in China and a lot of things stand still. Before we say goodbye to our Chinese friends and partners for this well-deserved break, we would like to get as much things off the ground as possible, which we will keep you up to date on here.
Until then, we look forward to every further order and will update the counter continuously.
Situation January 5, 2023 - 5:46 p.m
You're going full throttle! We are overwhelmed.
After less than half an hour, all Super Early Bird and Early Bird devices were sold out. 132 pre-sales in less than 30 minutes. We sit speechless at our computers and try to process the last few hours. What a great community you are and what a strong start for our new development project is that? Thank you for so much trust, so much love, so much support! Breaking new ground only makes us so happy because you are there.
For the next 444 devices, we set the pre-order price at €444. The task now is to break the funding threshold of a total of 555 devices by April 4, 2023. Let's go!
Situation January 5, 2023 - early in the morning
It's time!
A new SHIFTphone is being launched and on this page you can follow the progress of the project almost live. In this first funding phase, we will provide you with some key data on the new SHIFTphone 8 (see above). The waterproofness despite the modular design and the proven kill switches in the SHIFT13mi stand out here.
We will publish more information in February. Check back often for more detailed renderings, impressions and specs!
Sustainability, Reparability, Fairness!
Breaking new ground means a lot of development work. In many places we cannot fall back on the tried and tested. As a small company, we do not handle all developments alone, but work with suppliers and partners in certain areas. We have built up a network of suppliers with whom we enjoy working because good relationships and trusting relationships have developed. We want to rely on the expertise of these partners because they understand why SHIFT is so important to us. Sustainability, repairability and fairness are not the primary issues in the smartphone industry – but they are very important to us.